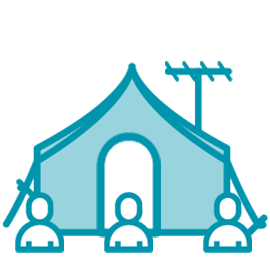 Social Protection & Humanitarian Assistance
The needs of an estimated 41.3 million internally displaced people (IDPS) and 25.9 million worldwide refugees fleeing conflict and instability go well beyond the initially vital food, shelter and other more traditional forms of aid, especially if we keep in mind that the average refugee is displaced for a decade. The shocking length of displacement and the fact that 60% of refugees are living in cities and communities – not refugee camps – means that handing out goods is no longer sufficient. Refugees, who may be displaced for generations, need to manage their savings and any income flows they may receive or generate.
Remittances have classically been the most reliable sources of income for millions of families around the world (be them economic migrants, IDPs, refugees, asylum seekers, etc.). Remittances linked to existing mobile technology help overcome geographic barriers, connect more recipients to formal systems and reduce costs. Benefits include eliminating the risks of travelling long distances to conduct cash transactions and increased potential to build an economic base. The long-term impacts can benefit families, and regional economic stability as even modest economic activity helps raise the remittance recipient's quality of life through better access to health services, material necessities and education. During the G20 2011 summit, Bill Gates said, "If the transaction costs on remittances worldwide were cut from where they are today at around 10% to average 5%…it would unlock $15bn a year in poor countries"[1].
PHB has experience developing several projects aimed at addressing the issue of affordable and accessible digital financial services, including remittances, for displaced populations and migrants as well as the digitization of bulk payments for social transfers and financial literacy training for refugees. We have worked hand-in-hand with MFIs, Central Banks and International Organizations to offer vulnerable populations, migrants and forcibly displaced populations access (and knowledge) to digital financial services making the delivery of their payments more effective and transparent. Furthermore, by providing access to digital financial services, we are not giving them prescriptive solutions, that entrap them in a system of dependence but providing them with the tools and resources they need to become self-reliant. In the short-term, for forcibly displaced populations, this means emergency electronic payments from aid agencies (cash relief) and, in the longer-term digital money transfers, salaries and mobile banking. A secure, pro-market solution that helps to integrate forcibly displaced populations into their new host economy.
View other Digital Sectors