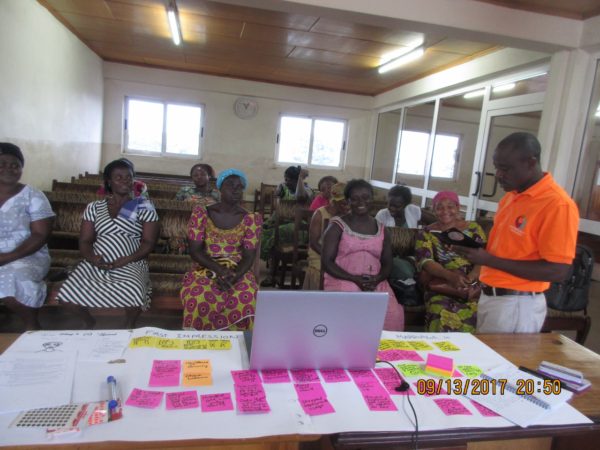 Gender-inclusive digital for true financial inclusion
Women in some countries have been historically under-represented in digital outreach and may tend to lag men in the uptake of newly-offered digital products.
Opportunity International is enabling more women to benefit from DFS
Women in some countries have been historically under-represented in digital outreach and may tend to lag men in the uptake of newly-offered digital products. In Ghana, for example, where Opportunity International (Opportunity) has a customer base of over 65% women, it was discovered that women represented less than half of the customers registered for mobile banking. Furthermore, when it came to the actual use of mobile banking services, women represented less than 30% of active users.
Opportunity is running a number of gender-focused initiatives aimed at addressing some of the barriers women face in using digital financial services and to pave the way for women to take part in the growing digital ecosystem. An Opportunity study with around 100 participants from three regions of Ghana shed light on some of the challenges faced by women clients in their adoption of mobile banking. These participants included women customers who had voluntarily registered for mobile banking, but had never used the service or had stopped using it shortly after registration.
The main gender-related challenges uncovered through the research were:
Lack of sole ownership of a mobile phone (many women shared a phone with members of their household)
Low levels of literacy and exposure to technologies
Perceived self-doubt or self-blame in dealing with new technology-related products & services
"While the issues of phone ownership and literacy were commonly known to our staff, the findings around certain perceptions as a limiting factor for women were less understood," said Dana Lunberry, a researcher with Opportunity Knowledge Management, who led the study. A number of the women expressed concerns around asking for assistance, and others had forgotten their pin codes and never asked for help because they were concerned about how their "forgetfulness" might be perceived. Women have often been characterized in industry literature as being less confident and more risk-averse than men especially when it comes to adopting new technologies. "Irrespective of the causes, these concerns existed and needed to be addressed," added Nick Meakin, Opportunity's Digital Financial Services Director for Africa.
With support from PHB Development, a set of women-focused training materials were developed in this Ghana initiative with an emphasis on creating a safe space that welcomed questions to support customers to build digital literacy. "The initiative helped field staff reconfigure their roles from being receivers of questions to question-seekers, and to perform more as coaches to help customers in their digital journeys," said Ms Lunberry.
Opportunity's gender-focused digital initiatives are moving forward with attention to the realities faced by individuals within their communities. Further work is set for 2018 to address some of the key challenges faced by a number of Opportunity's women clients, such as low levels of literacy and technological exposure, through voice-based messaging and community outreach.
A goal is to not only to attract and assist female clients, but also female Agents. Experience in other countries has shown that women not only perform better than men as Agents, but also that female clients often feel more comfortable visiting a female Agent. And for a sustainable benefit, organizations must better understand offering the right products and creating the right environment to promote gender inclusivity, which can be a complex transformation that benefits communities overall.
Opportunity International and PHB Development have been teaming up through PHB Academy training programs to better target the implementation of digital financial services. For more information on PHB training and partnership activities with Opportunity International, contact Pete Sparreboom: psparreboom@phbdevelopment.com.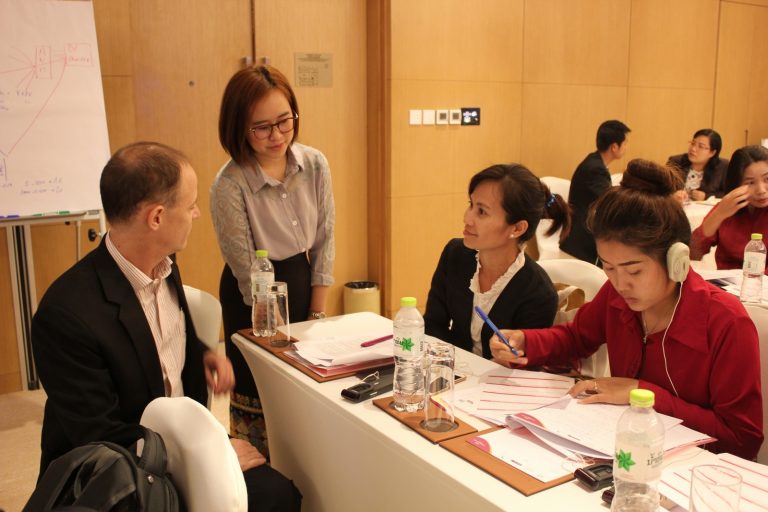 Building digital financial service networks in Lao PDR
building multiple and varied relationships within this developing environment for digital financial services (DFS).
Digital finance expert David Kleiman shares insights from programmes with UNCDF
David Kleiman came to Lao PDR as a Digital Finance Expert from PHB Development for the United Nations Capital Development Fund (UNCDF) programme MMP4 in 2014. Since that time, David has focused on building multiple and varied relationships within this developing environment for digital financial services (DFS). He shared views on the objectives and impact of his work.
Can you briefly describe your core objectives to enable DFS?
In 2013, when UNCDF MM4P started, there was no regulatory framework or guidelines – and therefore no service providers either. In order to jump-start engagement, UNCDF MM4P applied a market-development approach to creating an ecosystem for DFS to take root and flourish in the country. Much of our success to date has come from a focus on three pillars of engagement:
David Kleiman, left, in Lao PDR
A strong and growing relationship with the central bank, Bank of the Lao PDR (BoL), to develop guidelines and regulations for providers who aim to offer DFS and to promote a positive exchange between industry, BoL and the government in general.
A direct strategic relationship with UNCDF partners – to promote, support and manage various project activities and to align their business objectives with UNCDF and BoL's goals for financial inclusion.
Broader stakeholder engagement with banks, microfinance institutions, Mobile Network Operators, and even startups to promote activity in the field of DFS.
When UNCDF provides support to enable implementation, partners also commit through their leadership and resource mobilization. It's through these relationships with stakeholders that UNCDF can generate impactful projects and therefore catalyze the introduction of meaningful services for rural customers.
What can you say about the design and implementation process?
Any effective strategy must take into account the needs of people and the capacities of organizations in the country. Lao PDR currently has one implementation of DFS through agency banking; BCEL's Community Money Express (BCOME), which allows people to do basic banking close to home. Before BCOME, customers had to travel to a bank branch – of which there are only 700 in the country. Today BCOME has more than 140 agents, so it represents both a turning point for the country and a significant improvement in the points of access for financial services. The upcoming launch by Unitel of their mobile wallet will add another significant dimension to the ecosystem.
What are some unique aspects of working with UNCDF on this?
Within Lao, UNCDF works jointly with BoL in a national implementation program called MAFIPP (Making Access to Finance more Inclusive for Poor People). This joint structure strengthens our communication with stakeholders and solidifies their commitment. Goals are aligned because of joint project nature, which can also help extend the use of DFS services to achieve aims such as enrolling in education, accessing better healthcare and more.
What are the changes you have seen, especially considering a human-centered design approach (HCD)?
In a new market like this, ambitions should be aligned before selling a financial service. It's important to take demographics into account and to consider what really matters for the people – and why.
UNCDF has worked in numerous countries and has lots of talented people who understand best practices – particularly in engagement and impact. PHB Development has been working internationally with UNCDF on multiple DFS projects in Africa and Asia. The relationship between PHB and UNCDF is significant, and we can gain action-based insights from it. We listen to customers and providers who have aspirations – then work together to develop an implementation path based on best practices while developing services and solutions which are highly contextualized for each country.
MM4P AT A GLANCE
MM4P is a programme launched by UNCDF in partnership with the Swedish International Development Agency (Sida), the Australian Department of Foreign Affairs and Trade (DFAT), the Bill & Melinda Gates Foundation and The MasterCard Foundation. MM4P provides support to digital financial services (DFS) in a selected group of least developed countries (LDCs) to demonstrate how the correct mix of financial, technical and policy support can build a robust DFS ecosystem that reaches low-income people in LDCs.
For more information, visit mm4p.uncdf.org or follow @UNCDFMM4P and UNCDF MM4P on LInkedIn.
2 June 2017