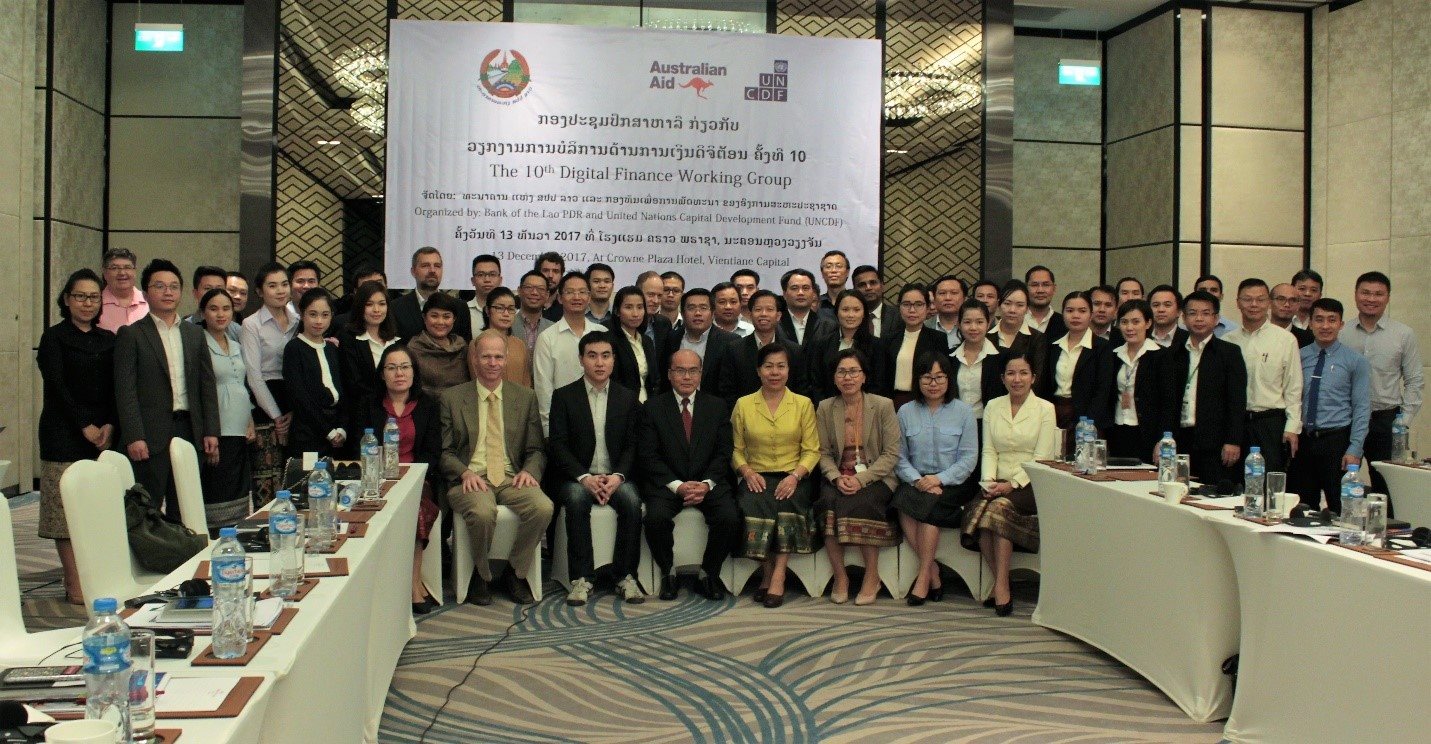 10th Digital Finance Working Group in Lao PDR is a clarion call for Digital Finance
On 12 May 2015, the first branchless banking transaction was completed in a rural village in the Lao People's Democratic Republic (Lao PDR).
Republished from the UNCDF MM4P website: https://www.uncdf.org/article/3302/10th-digital-finance-working-group-in-lao-pdr-is-a-clarion-call-for-digital-finance
On 13 December 2017, the 10th Digital Finance Working Group (DFWG) was convened by UNCDF1 and the Bank of the Lao PDR2 (BoL) with the generous support from the Australian Government. Under the chairmanship of BoL, this event marked a milestone for digital financial services (DFS) in Lao PDR. Not only it is the 10th meeting a milestone, showing the commitment of BoL and the engagement of the industry, but it also highlighted a new era of digital payments in Lao PDR.
More than 60 representatives from banks, mobile network operators (MNOs), microfinance institutions and government stakeholders were acquainted with the recently ratified National Payment System (NPS) Law.
The NPS law has secured passage in the National Assembly on November 7th and is expected to be signed into law in Q1 2018. The emergence of this new policy instrument will:
Give clarity to the industry about the roles they could play within the digital finance ecosystem.
Mandate the creation of a payments department within BoL to issue licensing to both payment service providers and payment system operators.
Pave the way to bring innovative, accessible and affordable payment solutions to Lao PDR.
"With emerging demand for quick access to financial services and success stories of existing products in South East Asia, Lao's digital finance sector has also been witnessing progressive changes. For digital payments or mobile money to work in any market- collaboration is the key! There needs to be a strong dialogue and a sturdy partnership between MNOs, banks and third parties to work towards developing digital solutions that can reach the broadest portion of the population. "- Nopphorn Danchainam, Managing Director of Digio, a pioneering payment systems provider in Thailand.
Towards the end of the programme, BCEL spoke of new updates to their BCELOne mobile banking application, which has a current client base of 70,000 registered users. In November 2017, BCEL introduced the third release of its BCELOne application with an added feature of QR Payments known as OnePay. It allows account holders to make instant mobile payments to vendors simply by scanning the merchants QR code. This domestic payment service is first of its kind in Lao PDR, with a standards-based solution that will integrate into the NPS infrastructure and allow interoperability with other providers over time. BCELOne previously integrated into the UNCDF-supported BCEL Community Money Express (BCOME) service, which allows banked customers to send payments to anyone in the country using the application. Funds can then be collected from the banks' branches or more than 200 agents nationwide. You can read the detailed case study of BCOME here and watch the video about BCOME's pioneering role in DFS in Lao PDR.
The DFWG has served as an excellent industry forum for discussion, knowledge sharing and promotion of a new suite of services in the Lao financial services market. Looking ahead to the 11th DFWG, BoL with the support of UNCDF aspires to promote the creation of action-oriented sub committees or taskforces that can address the challenges of delivering more innovative services in Lao PDR.
1.Through the in-country joint programme with BoL Making Access to Finance More Inclusive for Poor People (MAFIPP) and the global thematic initiative MM4P↩
2.Lao People's Democratic Republic↩
For more information, please contact:
KM Consultant
DFS Expert, Lao PDR
Or visit mm4p.uncdf.org