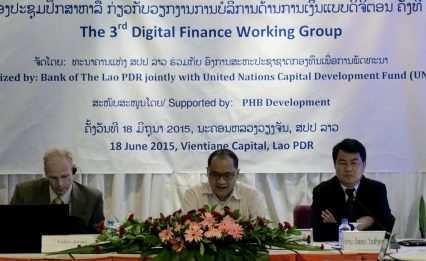 The Emergence of Digital Financial Services in Lao PDR
PHB Development has worked in close consort over the past four years with UNCDF* to develop a Digital Financial Services (DFS) ecosystem in what was previously a greenfield environment for digital payments.
Lao PDR is taking steps to digitize its economy, as are all other ASEAN countries. PHB Development has worked in close consort over the past four years with UNCDF* to develop a Digital Financial Services (DFS) ecosystem in what was previously a greenfield environment for digital payments. Today there are tens of thousands of new DFS users, representing nearly 1% of the adult population who are regular users of DFS. Though the numbers are relatively modest, they are significant tailwinds in this growing success story.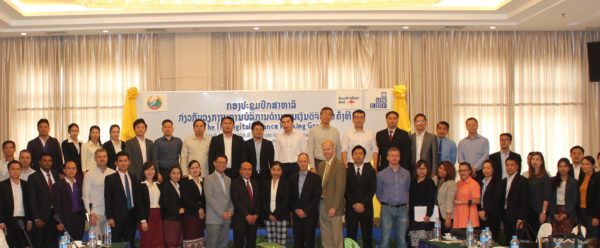 The Digital Finance Working Group was convened each quarter under the chairmanship of BOL as a forum for the DFS industry to address opportunities and challenges related to DFS.
When PHB first engaged in Lao PDR in September 2014, nearby Cambodia already had providers like WING with 1.5 million mobile money subscribers. Meanwhile, in Lao PDR, there were no institutions offering DFS or branchless banking – and therefore no customers. This was partly because the Bank of the Lao PDR (BoL) had no regulatory framework for this burgeoning industry.
Digital Financial Services Ecosystem
Through PHB's work within UNCDF and with BoL – across a wide network of stakeholders for an extended period – PHB was able to help catalyze the development of the DFS ecosystem from the ground up. As of October 2018, there were multiple bank-led DFS initiatives underway, and the largest mobile operator had launched the first-ever pilot of a mobile wallet under the authority of the Bank of the Lao PDR.
The four-year journey was led locally in Lao PDR by UNCDF under the directorship of the central bank, BoL "Businesses have increased confidence to make investments in the Fintech market here, and that is a big change. The work of all of these partners has created the opportunity for services like mobile money wallets, branchless banking, digital microfinance and QR code-enabled merchant payments to begin to flourish," said David Kleiman, a PHB Senior Consultant, and UNCDF DFS Consultant in Lao PDR from 2014-2018.
This ecosystem development grew across multiple dimensions including financial institutions, and new payment service providers, with BoL as the regulator. PHB supported early market entrants including BCEL** and Unitel to develop business plans while advising BoL on establishing suitable and enabling digital policies. This approach ultimately supported the introduction of the first-ever DFS services in Lao PDR, including:
BCEL's Community Money Express (BCOME): now in their second phase initiative for branchless banking which includes account opening with an instant issue ATM card and the ability to make P2G payments for road tax – as well as other standard branchless banking services. These innovations were supported through PHB Development's team over a period of more than 18 months through all phases of preparation, testing, training, pilot and launch. See the multi-media case study "The Dawn of Digital Finance in Lao PDR."
Unitel, the largest Mobile Network Operator (MNO) in Laos, and part of the Viettel Group was supported by PHB to establish Star FinTech Co Ltd (SFT) to meet compliance obligations of BoL and develop the most suitable DFS service for the Lao PDR population. PHB conducted research applying the principles of Human Centered Design to support the creation of branding and the development of the U-money mobile wallet. SFT received approval to launch a commercial pilot of U-Money in September 2018.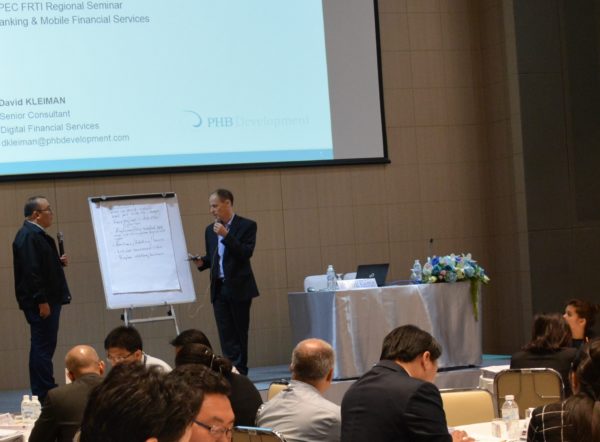 David Kleiman (standing, right) facilitating a session at the ADB Financial Regulatory Training for Mobile Financial Services, attended by BoL and 15 other regional central banks – hosted by the Bank of Thailand.
The establishment of the BoL Payment Systems Department in early 2018 presented another opportunity for PHB to support UNCDF in developing training on the principles of DFS for the new department. This training helped department staff get up to speed on DFS topics and supervisory approaches to e-money, agents, and customer protection – resulting in better understanding and interpretation of the recently enacted National Payment Systems Law.
"The actors all needed an on-site resource person, someone who could be called upon by any stakeholder – UNCDF and its partners, the Bank of the Lao PDR and wider stakeholders such as other banks, MFIs, MNOs or Fintechs – as a neutral advisor to address specific questions associated with the rapidly changing DFS climate. As the UNCDF DFS Expert, my role was to bring together stakeholders on digital implementation and strategy issues," said David, "The results really speak to the ambition of BoL and tenacity of the UNCDF. Although there was no clear concept of regulation for DFS when PHB arrived, now there is a national payment system law; a department within BoL to implement it; providers offering appropriate services and most importantly…customers."
"A lot of learning took place through workshops and training that can lead to further positive development. We are seeing a growing set of use cases beyond simply remittances, and that points to further adoption of DFS in the country," said David.
*PHB worked directly with UNCDF's global initiative known as MM4P, and the Lao PDR national implementation program MAFIPP (Making Access to Finance Inclusive for Poor People)
**Banque Pour Le Commerce Extérieur Lao Public, the largest bank in Lao PDR
(More on PHB training)
---
Featured PHB-facilitated workshops during this period:
• Building Effective Agent Networks: Training and exposure workshop for banks and non-banks to understand how to scout, select, recruit and manage agents for DFS.
• Digital Finance and Interventions Models for MFIs: Support to MFIs interested in the digitalization of their business and introduction of DFS. Based partially upon the models discussed in the 6-part Toolkit Series "How to Succeed in Your Digital Journey," a series of practical guides for financial service providers from PHB Academy, UNCDF MicroLead and the MasterCard Foundation on DFS.
• Asian Development Bank Financial Regulatory Training Initiative (co-facilitated by PHB in Bangkok): Supported three representatives from BoL to attend this ADB training program with regulators from 16 other countries on Electronic Banking and Mobile Financial Services.
• National Payment Systems Act as applied to Digital Financial Services and Financial Inclusion: Training for 13 technical staff of the newly formed Payment Systems Department (PSD), and focused on understanding aspects of the National Payment Systems Law (NPS) as as related to DFS and the department's role in inspection, strategy, audit, policy and IT policy.
• AML/CFT Principles for Digital Finance Providers: Training workshop – followed by individual coaching with two providers – about the compliance requirements under the AML law and risk mitigation strategies.
A previous PHB blog on DFS development in Lao PDR was published in June 2017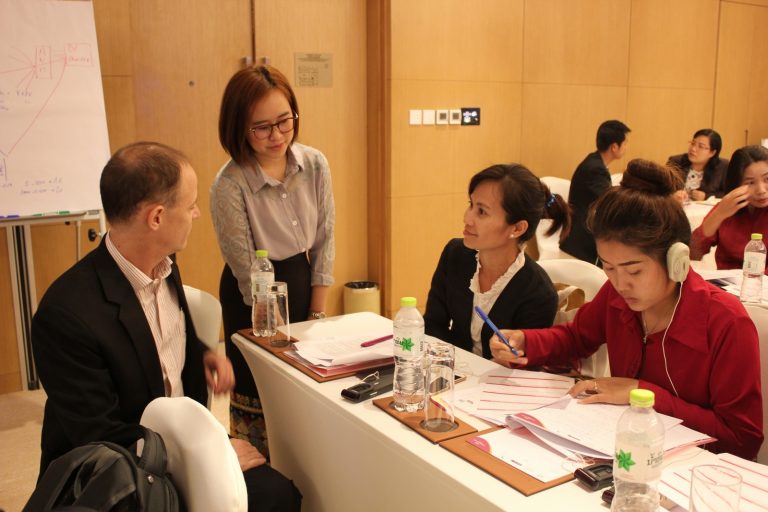 Building digital financial service networks in Lao PDR
building multiple and varied relationships within this developing environment for digital financial services (DFS).
Digital finance expert David Kleiman shares insights from programmes with UNCDF
David Kleiman came to Lao PDR as a Digital Finance Expert from PHB Development for the United Nations Capital Development Fund (UNCDF) programme MMP4 in 2014. Since that time, David has focused on building multiple and varied relationships within this developing environment for digital financial services (DFS). He shared views on the objectives and impact of his work.
Can you briefly describe your core objectives to enable DFS?
In 2013, when UNCDF MM4P started, there was no regulatory framework or guidelines – and therefore no service providers either. In order to jump-start engagement, UNCDF MM4P applied a market-development approach to creating an ecosystem for DFS to take root and flourish in the country. Much of our success to date has come from a focus on three pillars of engagement:
David Kleiman, left, in Lao PDR
A strong and growing relationship with the central bank, Bank of the Lao PDR (BoL), to develop guidelines and regulations for providers who aim to offer DFS and to promote a positive exchange between industry, BoL and the government in general.
A direct strategic relationship with UNCDF partners – to promote, support and manage various project activities and to align their business objectives with UNCDF and BoL's goals for financial inclusion.
Broader stakeholder engagement with banks, microfinance institutions, Mobile Network Operators, and even startups to promote activity in the field of DFS.
When UNCDF provides support to enable implementation, partners also commit through their leadership and resource mobilization. It's through these relationships with stakeholders that UNCDF can generate impactful projects and therefore catalyze the introduction of meaningful services for rural customers.
What can you say about the design and implementation process?
Any effective strategy must take into account the needs of people and the capacities of organizations in the country. Lao PDR currently has one implementation of DFS through agency banking; BCEL's Community Money Express (BCOME), which allows people to do basic banking close to home. Before BCOME, customers had to travel to a bank branch – of which there are only 700 in the country. Today BCOME has more than 140 agents, so it represents both a turning point for the country and a significant improvement in the points of access for financial services. The upcoming launch by Unitel of their mobile wallet will add another significant dimension to the ecosystem.
What are some unique aspects of working with UNCDF on this?
Within Lao, UNCDF works jointly with BoL in a national implementation program called MAFIPP (Making Access to Finance more Inclusive for Poor People). This joint structure strengthens our communication with stakeholders and solidifies their commitment. Goals are aligned because of joint project nature, which can also help extend the use of DFS services to achieve aims such as enrolling in education, accessing better healthcare and more.
What are the changes you have seen, especially considering a human-centered design approach (HCD)?
In a new market like this, ambitions should be aligned before selling a financial service. It's important to take demographics into account and to consider what really matters for the people – and why.
UNCDF has worked in numerous countries and has lots of talented people who understand best practices – particularly in engagement and impact. PHB Development has been working internationally with UNCDF on multiple DFS projects in Africa and Asia. The relationship between PHB and UNCDF is significant, and we can gain action-based insights from it. We listen to customers and providers who have aspirations – then work together to develop an implementation path based on best practices while developing services and solutions which are highly contextualized for each country.
MM4P AT A GLANCE
MM4P is a programme launched by UNCDF in partnership with the Swedish International Development Agency (Sida), the Australian Department of Foreign Affairs and Trade (DFAT), the Bill & Melinda Gates Foundation and The MasterCard Foundation. MM4P provides support to digital financial services (DFS) in a selected group of least developed countries (LDCs) to demonstrate how the correct mix of financial, technical and policy support can build a robust DFS ecosystem that reaches low-income people in LDCs.
For more information, visit mm4p.uncdf.org or follow @UNCDFMM4P and UNCDF MM4P on LInkedIn.
2 June 2017