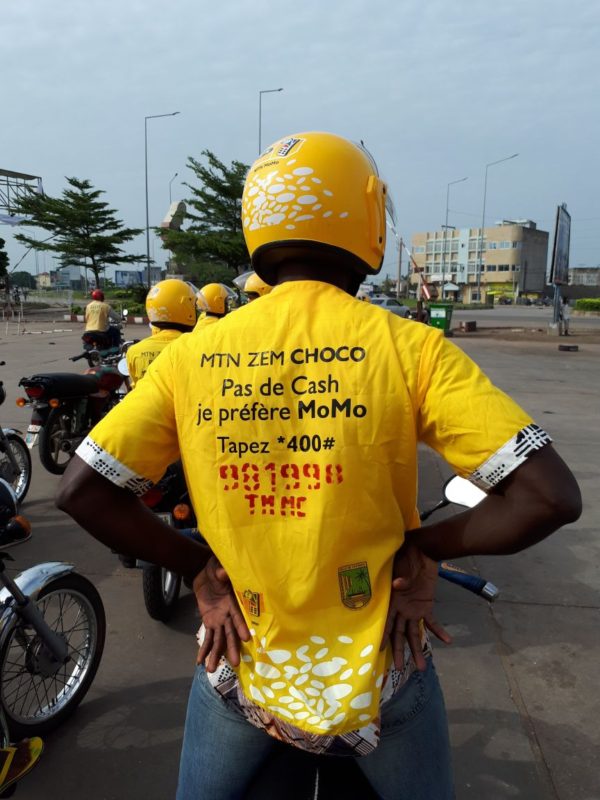 PHB supporting MTN Benin in digital payment solutions for moto-taxi drivers
They buzz past in Benin's largest city of Cotonou, bypassing congested traffic and going off-road when needed to deliver customers to their destinations. The "Zemidjan", or better known as the "Zem", is the motorbike taxi drivers hustling daily to make a living and facing challenges in building their status as business people in Benin society.
Along with UNCDF MM4P, PHB Development is supporting MTN Benin to develop a digital payment ecosystem for the Zem and their passengers. The project is seen as a way to increase financial inclusion for those providing some essential services in the cities.
Building the digital ecosystem around the Zems has been a sustained project encompassing several phases, as reported in a May 2018 article from UNCDF. Actions began with human-centric research by PHB and Innate Motion in 2016 to better understand the Zem's aspirations and challenges, and investigate how they can become MTN Mobile Money (MoMo) ambassadors. "Our research helped us uncover that Zem is full of aspirations and projects for their future, but are impeded by societal and financial hassles. Involving MTN all along in this journey, we tried to understand how their lives could be impacted with digital payments – with consideration of their current challenges and longer-term ambitions. This is essential in designing a good value proposition for them," said Victorin Salifou, DFS Expert at PHB Development
Following the research phase, PHB Development and Innate Motion worked with MTN and MM4P in developing and piloting digital payment solutions and tailored incentive mechanisms to make digital payments attractive to the Zemidjans and their customers. Digital payments are also intended to grow with the Zem being able to use their mobile money to conduct transactions for themselves, such as purchasing fuel and meals while working. With a pilot running until the end of 2018, MTN Benin intends to position the initial 200 Zem pilot participants – out of an estimated 100,000 in the city – as MoMo ambassadors to spur the growth of the digital payment ecosystem throughout the country.
Immediate benefits of digital payments include increased security, because drivers carry large amounts of cash that can be lost or stolen, especially near the end of their working day. There are also physical security and image perceptions of the Zem that could be improved: The Zem have received training on driving codes and encouragement to adhere to a dress code. "We designed a t-shirt for them that is more visible to other motorists and conveys a better image to customers. We also provided helmets they can use. We're increasing their safety on different levels and helping to boost their image. It's a positive step that we can build on within the project," said Hermann Ahouandjinou, Manager – FS Sales & Ecosystem with MTN Benin.
The Zem participants needed to have a mobile money account to participate and were recruited through an association that previously worked with them. So far, 163 of the initial 200 participants have fully completed their profile to accept payment from a client via mobile money. Technologies such as Near-field communication (NFC), Unstructured Supplementary Service Data (USSD) and QR codes are helping build the digital payment ecosystem from the ground up. An MTN field team visits the Zems at points where they meet during the day, in order to gain practical information on what needs to be improved in the process to drive to the adoption. It's a modest start with much room to grow as momentum builds.
After the pilot and the learnings gained from it, there will be the project roll-out and possible expansion to other cities. "We know that digital payments have been difficult to crack in other markets, so we want to learn from this pilot which incentives are working and which are not, to perfect our value proposition," said Victorin Salifou with PHB.
Author: Matt Luna, PHB Development
Contribution by Lisa Chassin, Head of PHB Studies and Strategies & HCD Expert for Financial Inclusion
31 July 2018