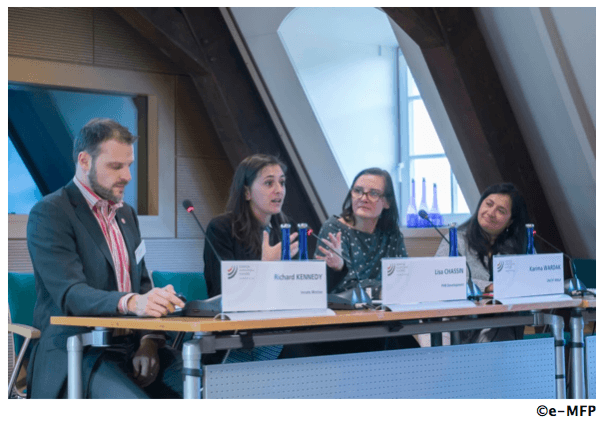 PHB at European Microfinance Week: Human-centric design, right to housing and empowering women
The European Microfinance Week 2018 brought together nearly 500 microfinance professionals from more than 60 countries to share expertise on human issues that can be improved through further cooperation in the evolving financial inclusion sector. PHB representatives Lisa Chassin and Ronald Everts contributed their expertise on developing topics in various sessions of one of the world's top microfinance events in Luxembourg from 29 November to 1 December.
Lisa Chassin (second from left in photo) joined the Digital Innovation for Financial Empowerment (DIFE) working group that explored varied conceptions around human-centric design (HCD) to improve the impact of digital financial services. "This was an interesting first-time topic for the group," said Lisa, "many tend to focus mainly on technology, and by putting the client back at the centre of our discussion we aim to better connect with the people we want to serve."
A session on the final day featured Lisa on an expert panel, along with Karima Wardak with UNCDF MM4P, and Richard Kennedy and Glida Zarate Chabluk from Innate Motion. The panellists presented two projects they are conducting together in Benin and Senegal: the focus in Benin is to develop the digital ecosystem around the Zemidjans (merchant payments and digital tontines). In Senegal, they have been studying how to digitalise pension payments for former civil servants. The panel experts presented a step-by-step approach to an HCD project, including 1) stakeholder engagement on aligning objectives 2) ethnographic research and immersions for a more complete understanding of the people being served 3) co-creation sessions with partners and clients for an increased sense of ownership 4) implementing prototyping/action plans.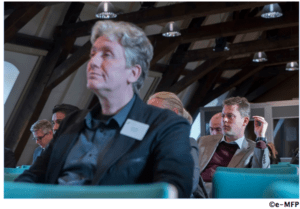 PHB's Ronald Everts (in photo at above) pointed out developments in housing finance that are boosted by the United Nations' focus on housing as a human right. "This, in combination with a feverish urbanization, creates opportunities for microfinance. Housing finance regulation varies widely per country, and making an investment in this sector can be cumbersome and knowledge-intensive," shared Ronald about microfinance and housing. Additional EMW sessions attended by PHB included a training on the Social Performance Management tool SPI4, using the Cerise methodology.
An increasingly prominent focus with microfinance and at the EMW is the empowerment of women. It was pointed out that financers and investors should consider some central factors in making a positive impact:
Women may often work part-time in their small enterprises, combining entrepreneurship with family tasks.
Families of the women, including the men, should be incorporated in the approach to a sustainable empowerment of women.
The closing plenary of the EMW 2018 followed the theme of "Microfinance: positioning ourselves for the next decade" with "financial inclusion through technology" as an upcoming microfinance award focus. PHB Development continues to work toward its core mission of financial inclusion for all — often implementing mobile technology and innovative methods.
For more information on these PHB Development initiatives, contact:
Click this link to see more about the European Microfinance Week.