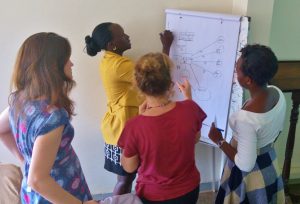 PHB Academy Embarks on new DFS Training Initiatives in Uganda
"Complex issues were made understandable, drawn from extensive Ugandan and global experience," said Tamsin Scurfield of Opportunity International about participating in a recent PHB Academy training in Kampala, Uganda. A dozen people took part in the 5-day course – 27 Nov. to 1 Dec. – from organizations including FINCA Uganda, FINCA International, Opportunity International UK, Opportunity Bank Uganda and Uganda Management Institute.
The hands-on, interactive sessions covered understanding the Digital Financial Services (DFS) ecosystem, selecting a DFS business model, agent banking, mobile banking and partnerships, and funding DFS. "The week after training, we used the material to guide into a DFS strategy. A draft strategy has now been put together and the training provided a clear roadmap for this – so participation was very relevant," added Tamsin about the courses.
These training sessions were held at the Uganda Management Institute (UMI). Courses facilitated active sharing of expertise from both instructors and participants and were intended to be the first in a series of such sessions. "Not only did the facilitators give sufficient and relevant examples, but they also allowed us to bring own examples," said Don Twine, from FINCA Uganda, who participated in the training. PHB is further coordinating with the UMI to establish a partnership around training and consulting to support the ambitious Uganda strategy for financial inclusion, with the next training session scheduled for March 2018.
Mr Philippe Breul and Dr Henry Clarke Kisembo, of PHB Development/PHB Academy, led this course instruction in Kampala. "We're also working with FINCA and Opportunity International on an ambitious financial inclusion initiative for the South Sudan refugees in Uganda, as part of the in-depth work done during the training, said Philippe.
Objectives in this training course included:
• Understanding ways to use technology to further the goals of a financial institution.
• Understanding DFS concepts and distinguishing different business models.
• Understanding the costs and risks of DFS for different stakeholders.
• Being able to strategize with senior colleagues about DFS priorities.
• Being able to assess potential partners and help negotiate mutually beneficial deals.
• Being able to sell DFS projects to regulators, boards, owners and funders.
And coming soon on the PHB Development website: The PHB Academy Training Catalogue with details about our specialized learning opportunities on Digital Financial Services!