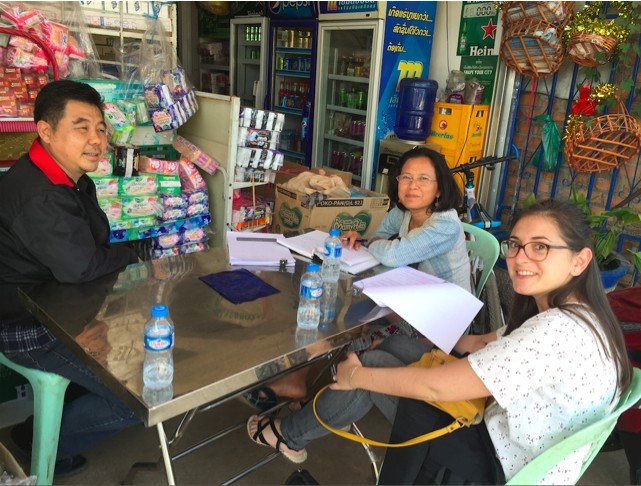 Human Centered Design Study
Human-centered Market Research in Lao PDR
PHB consultant Lisa Chassin recently completed a Human Centred Design study in Lao PDR with UNCDF and Unitel for the introduction of the first-ever mobile wallet. Lisa shared her insights on the needs and culture that she experienced.
What were the reactions of local people towards the introduction of Mobile Wallets?
Potential clients were generally keen and curious about how mobile wallets function. It was perceived as an interesting alternative to brick and mortar branches, where it is time-consuming to transact (travels, long queue, no place to park, etc.). Younger people were enthusiastic because they saw mobile money as a modern solution that would help them enhance their future. A few were reluctant because cash is deeply rooted in the local culture, and new technology can be intimidating.
We tried to identify different categories of people – personas – that were addressed separately. The goal was to identify what is specifically important to each group and what could trigger the adoption of e-wallets for these specific users. Personas we produced are on the UNCDF MM4P blog: http://uncdf.org/en/human-centered-market-research-develop-first-mobile-wallet-lao-pdr

What was the most memorable experience you had on the introduction of the first-ever mobile wallet in Lao PDR?
I was impressed by women's lead in household finances and business management decisions. And, I noticed this when talking to men – not women. A shop owner told me about how he enjoyed working as a tourist guide before he met his wife. When they married, she decided that the best economic decision for them was to take over his father's shop, "So that is what we did," he said. And a young man said he was giving all his salary to his girlfriend, because "she would manage it better; I don't trust myself with money. With her, I know it is safe."
When designing a financial product, these insights are very important! We realised that we had to give an important voice to women, to acknowledge and highlight their role as financial managers and meet their specific needs, especially through a targeted communication strategy.
Did women show any interest in the product – and in what aspect, if so?
Yes, for example, women entrepreneurs appreciated the convenience of remote and fast transactions without going to a bank. Young tech-savvy girls were excited to have a new and affordable tool to manage their thin budgets. I would not say there is a gender-specific interest, because men were also quite interested in using the e-wallet, but women were generally more eager, due to their money management responsibilities.
What were the biggest immediate impacts of this project/research that you could see?
Helping Unitel's team identify their targets and providing actionable insights for the product pilot launch were key contributions. Based on newly-gained insights, we brainstormed with the U-money management team to unlock product development and distribution strategy issues. One outcome was that marketing changed from product-centred to human-centred communication, in which people could better identify with the product. Unitel appears to embrace the human-centric approach by its willingness to test future product changes with clients.
What long-term impacts could you see and in what areas?
In the longer run, Unitel's objective is to reach the underserved population in rural areas of Lao PDR, where nearly 80% of the total population and the majority of the unbanked people live. With a saving culture in the country (77% of adults save according to a recent Finscope study) and the high mobile penetration (78%, GSMA, 2017), U-money can provide a safe, affordable and easy-to-use financial enabler for underserved rural households.
Did you face any particular challenges in carrying out this research?
At first, many of the people were reluctant to participate in the study. On one hand, it was difficult for them to spare the time from their routines, but they were also a bit shy and reluctant to talk about themselves in detail. This was a challenge because we needed to immerse ourselves in their lives and culture in order to reveal their motivations and behaviours for the study to be productive.
To overcome this, we had to put extra emphasis on presenting who we were as people and give personal details about ourselves first in order to initiate a two-way conversation. Eventually, they spoke, we listened, and valuable insights were shared to help us better design an authentic human-centric approach.
Further about the research: Ms Latsamy Thammavong, Chief of Business Department at Unitel, said, "Through this [HCD] approach we can now understand the aspirations of our customers – which is very important when building a trusted financial service. Unitel is in a good position to support financial inclusion with our new services due to our network, distribution and large customer base. We also get support from PHB experts to suggest useful information for our product planning."