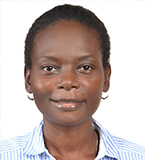 Grace Akinyi
Digital Catalyser - DFS
Grace spent a good part of her career in the banking sector, leading operations and compliance teams. During her tenure as a senior executive, she spearheaded the implementation of Agency and mobile banking to extend financial services to the last mile in Tanzania.
Her DFS experiences from Africa grew better mileage in Papua New Guinea when she designed, developed and implemented a functional banking access point network coupled with a new customer onboarding process in six of the provinces. She takes joy and pride in being able to narrow the gaps of financial access for the marginalised women, youth and the vulnerable communities through her work at PHB. Most notably, she has designed financial products tailored to refugees' needs and realities in Uganda, one of the largest host countries for refugees. The financial product distributed through the most adapted channels links the local markets to improve refugee contribution, local economy and the value chains ultimately benefiting the host communities as well.
Grace is an alumna of ABA Stonier Graduate School of Banking. She holds an MBA and a bachelor's degree in Business Administration.
Connect with Grace via