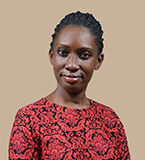 Frances Imokol
Digital Catalyser - DFS
Frances grew up in the pearl of Africa, home of the crane and the land of green pastures, rich in culture and hospitality, Uganda. She has a strong sense of purpose and strives to achieve the highest result for every task. Frances has a particular interest to make financial services transcend technology to serve and improve the quality of life for those who are in need.
She harnessed her analytical skills from the stints at various banks based on a quantitative approach to serve clients with the result in mind. Her digital financial expertise cuts through experiences on delivery channels, Mobile, and Agent Banking solutions. She significantly contributed to developing the dairy value chain finance and improving the livelihood of refugees in Uganda. Her work has involved translating the needs of Social Transfers for different human segments including; MSMEs, Farmers, Youth, Women, Refugees and host communities, People with disabilities and the elderly with concrete financial and operational processes, and setting up platforms for transactions. Frances' satisfaction peaked when her work yielded increased use and uptake of digital products and operationalization of thousands of clients. The intervention boosted monthly incomes of various stakeholders in the ecosystem of SACCOs, VSLAs, Hospitals, Traders, Schools and individuals in rural, peri-urban and rural communities. It led to a partnership in financing with international partners – OI, StrongMinds, Swisscontact and aBi Trust, and with the Bank of Uganda appreciating digital banking in its regulatory framework.
Frances attended excellent formal education with high morals and values. With a "never give up" motto from high school, she graduated with a high achieving mentality. It's with this background that she went on to pursue a degree in quantitative economics and a master's degree in business administration. Frances, like many Africans, is multi-lingual and fluent in English, Luganda, and Lumasaba.
Connect with Frances via