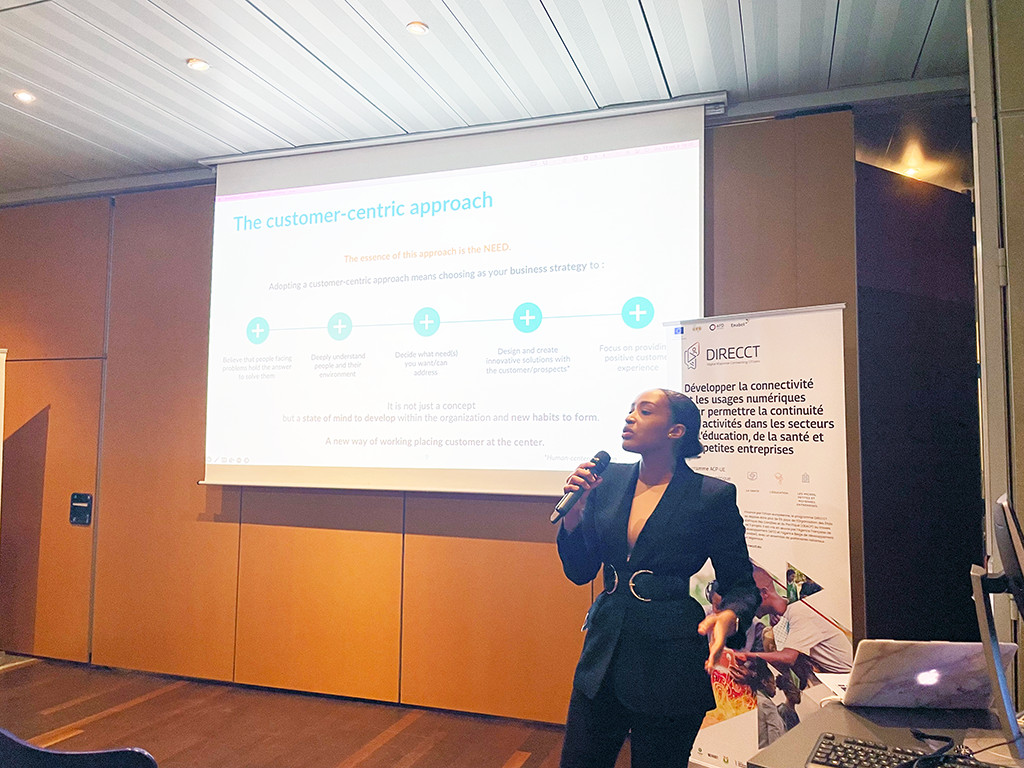 What is the key ingredient to a successful digital transformation?  A customer-centric approach
---
It is no secret that microfinance institutions (MFIs) are driven to digitize or die…  the challenge is that some are doing both!  
In order to avoid common pitfalls of focusing exclusively on the technological solutions, PHB has always stressed the human element and the importance of customer centricity. PHB's experience in supporting numerous MFIs in their successful digital transformation confirms the importance of involving not only MFI management, but also all stakeholders: field teams in direct contact with customers (loan officers, savings collectors, etc.), customers themselves -who should be involved throughout the process in a collaborative approach (Human Centric Design)-, and technical partners (mobile phone provider, fintech, technical providers).
Aligning stakeholders with divergent interests requires a common vision. The strategy (vision, key axes, desired impact, key success factors) must precede the roadmap. As this CGAP article reminds us, the change in corporate culture -that digital transformation requires- is a long process.
PHB supported the microfinance institution ALIDé in Benin between 2017 and 2018, with the support of UNCDF, to digitize its loan repayments and savings collection. ALIDé was then the first Beninese MFI to launch a bank to wallet service allowing customers to link their electronic wallet to their ALIDé account to send money from their phone to their MFI account and vice versa.
In Senegal, Burkina, Uganda, and Zambia, where we have supported other MFIs in their digital transformation (Caurie, FINCA, and Pamecas, among others), the process also took between 18 and 24 months. It may seem long, however we are talking about an in-depth transformation of the organization, its culture, and its processes: "Digital transformation does not happen overnight. It is a complex process involving multiple players with different technical profiles and sometimes conflicting interests". (CGAP)
Between 2021 and 2022, PHB also supported the MFI ACEP in Burkina Faso in its digital transformation. We embarked on a journey with the entire staff of the MFI, not only top and middle management, but also field agents and team leaders, through a course created by PHB Academy, to familiarize them with an approach centered on client. It consisted of immersing oneself in the client's life to better understand their needs through in-depth interview and observations done at the client's home or workplace. This enabled ACEP to identify a need for savings products, accessible via digital channels, to meet the clients' aspirations to save money for their business, their family, and the future of their children. 
Through a collaborative approach involving the MFI, customers and the mobile phone operator, four savings products have been developed, accessible at ACEP branches, via customers' mobile phones (mobile money account connected to the customer's account within the MFI), and via collectors (field agents equipped with tablets, responsible for collecting money from clients at their place of work to credit it to their savings account). After a six-month pilot and based upon the results obtained through customer feedback, two products and one channel were ruled out before large-scale deployment. The adoption rate of these new products and channels has exceeded expectations, particularly for the mobile money channel.
Today, all these institutions have transformed the way they work and interact with their clients. Indeed, our objective at PHB is to support MFIs in digital transformation and human-centered approach not as "fashionable" concepts but to support the wholistic transformation of the institution's culture by developing a new state of mind and new work habits that place the client and their needs at the center of what the institution does.
Stay tuned for more on PHB's experience with digital transformation journey.


Photo by Markus Spiske on Unsplash