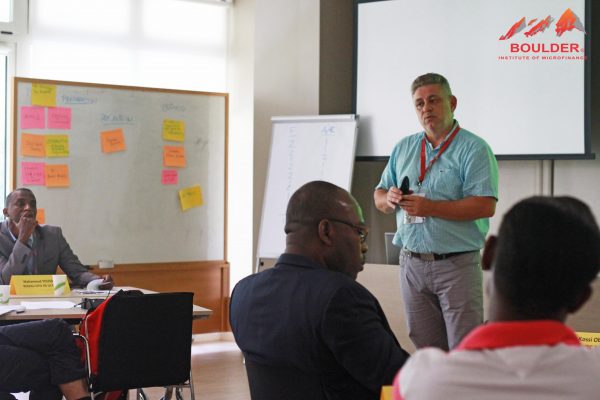 Adapt or Die! A Changing Landscape for Microfinance
How are changes in technology and customer preferences driving the financial inclusion market? What is PHB Development doing to deliver in this changing landscape? PHB founder, Philippe Breul, and PHB Academy Co-Director, Pete Sparreboom, share insights on trends and solutions to connect with customer needs:
With the support of PHB Academy, Philippe taught two courses in the Summer 2017 session of Boulder Microfinance Training in Italy, which was also the first year that Boulder featured a special track on digital finance (DF). In a sign of the times, DF courses were oversubscribed, and additional instruction was added to help meet the demand.
"A large part of the financial sector is not adapting well to new market environments and seems to have lost focus on the mission to provide financial services to the poor," said Philippe about trends he is seeing in the sector, "By conducting extensive client research, PHB helps financial institutions develop new products that deliver a good value proposition to both the institution and customers. This helps them stay faithful to their original mission."
PHB Academy conducts research and provides online instruction on how to stay ahead of changing needs of the market, and apply innovations to deliver the right services to customers. Pete Sparreboom, PHB Academy Co-Director, said "Microfinance institutions that do not adapt to demand are putting their portfolio and bottom line at risk. It's important to address clients' demand for services that will save them valuable time and effort. Mobile money operators are getting ahead of traditional MFIs because clients are no longer accepting to wait several weeks for loans after complicated applications and travel distances to branch offices. Customers expect convenience and ready access to a range of services. It's that simple."
The Digital Finance Toolkit series (from PHB, UNCDF MicroLead and the MasterCard Foundation) allows financial institutions to connect effectively with the market and customers through the introduction of digital financial services. "PHB is striving to remain a leader in the sector through a human-centric design approach to mobile technology," said Philippe, "We conduct extensive field research that leads to prototyping, testing and then the development of a solid strategy that covers the customers' needs."
For the future of microfinance institutions, Philippe said, "It's crucial for microfinance institutions to update their operational models and strategies, and bring the changes prominently into the market. It is really an adapt-or-die situation. PHB with PHB Academy is leading the way to deliver modern benefits in line with our mission and values of financial inclusion."