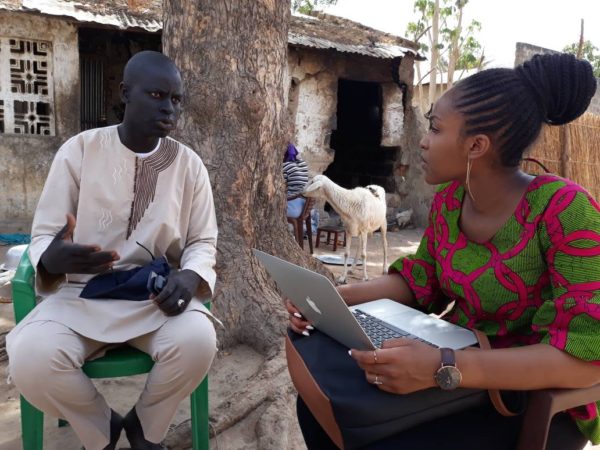 A path-in-progress toward financial inclusion
Interview with PHB Consultant Ruth Thiemele-Kadjo
Ruth Thiemele-Kadjo is a consultant with PHB Development with a current focus on DFS strategy, agent research and regulation in West African countries. Born and raised in Dakar, Senegal, Ruth built her initial financial services experience through hands-on work including with the African Microfinance Transparency Association as she completed her Bachelors in Finance at Bordeaux Ecole de Management in Dakar. She was happy to share highlights of her professional path so far, and what motivates her work on financial inclusion initiatives.
What is your core motivation?
In Senegal, you can see a big difference in the rich and poor. There has always been a big gap, and I asked myself how can I contribute to economic development in Africa and the quality of life for the people?
I discovered PHB in Fall 2016, and I joined as a part-time consultant. With my previous experience in microfinance and development, it has turned out to be a good match to learn about digital tools in a sector that I was already familiar with. Seeing the actual results of digital financial services in the field is more than fascinating. With PHB, there is always something new – whether it's new technical applications or regulations.
Can you describe your work with PHB?
The Agent Network Research project in Senegal was my first mission in rural areas. We interviewed Mobile Money agents that were deployed with the Mobile Money for the Poor program (MM4P) by UNCDF. We were applying a Human-Centric Design approach to identify their main difficulties and in what conditions they were working. We took their entire situation into account – financial and personal.
It was hard for them to do their work because of Internet connection problems, so much that some agents gave up and quit. They also had liquidity issues, often requiring travel to larger cities to try to solve. I met one agent in a village where many people could not pay their hospital bills, because they would need to travel to cities to receive money from relatives and friends. He wanted to help people in village clinics have access to money for their medical bills. The mission is still going and we're looking forward to more to report.
Another highlight was the Digital Services Workshop in Dakar, Senegal, that was facilitated by PHB and sponsored my MM4P. Digital loans and savings are something relatively new there. We shared examples from East Africa where DFS is more developed and discussed challenges of partnerships to develop a DFS project in West African countries.
We saw the knowledge base being built through our efforts! I think the discussions on DFS implementation with participants from different types of institutions were enlightening. It all comes together to develop DFS.
I was also fortunate to work on training-of-trainers for a digital money project pilot for moto-taxi drivers in Benin. What a great experience! I am looking forward to being a central part of future PHB missions, especially as I am a francophone, and there are more opportunities for development in West Africa.
How did you get your start in the financial inclusion sector?
My first internship was with African Microfinance Transparency in Dakar, a project developed by ADA Luxembourg which helps connect microfinance institutions in Africa. We developed capacity-building programs and produced events in Dakar for a platform for people to meet and share their experiences. This was my first microfinance experience, I found it inspiring and then looked ahead in this direction.
Maybe it was a fortunate coincidence AMT office was in the same building with MIX Market, which is a platform that provides access to data in the financial inclusion sector. So I went on to work at MIX first as a financial analyst intern, then as a part-time financial analyst associate. It opened my eyes to how microfinance worked. I saw how hard it was for small MFIs in some countries because of financial and regulatory issues. Reflecting upon the experience, you could say that I challenged myself to see what more could be done for these MFIs. My research and follow-up work eventually led me to France to pursue my Master's degree in risk management, which was a spark toward a new direction that I did not really expect.
I began working with Positive Planet in reviewing calls for proposals and analyzing offers in comparison to our value propositions. This could be called my first "real" experience in the development sector, and I knew right away that I wanted to go to the field. It's been an interesting path that's taken me to work with PHB!