MAIZE PROCESSING LIFTS THE HOPES OF A BETTER FUTURE FOR THE DISPLACED AND REFUGEE POPULATION IN KIRYANDONGO (UGANDA)
In continuing our growing passion fruit story, we engage with Impact Maker Joseph Okony at the humanitarian, development and peace nexus and develop a genius locally-led system design thinking along the maize value chain and impact pathway. We are happy to share this inspiring story.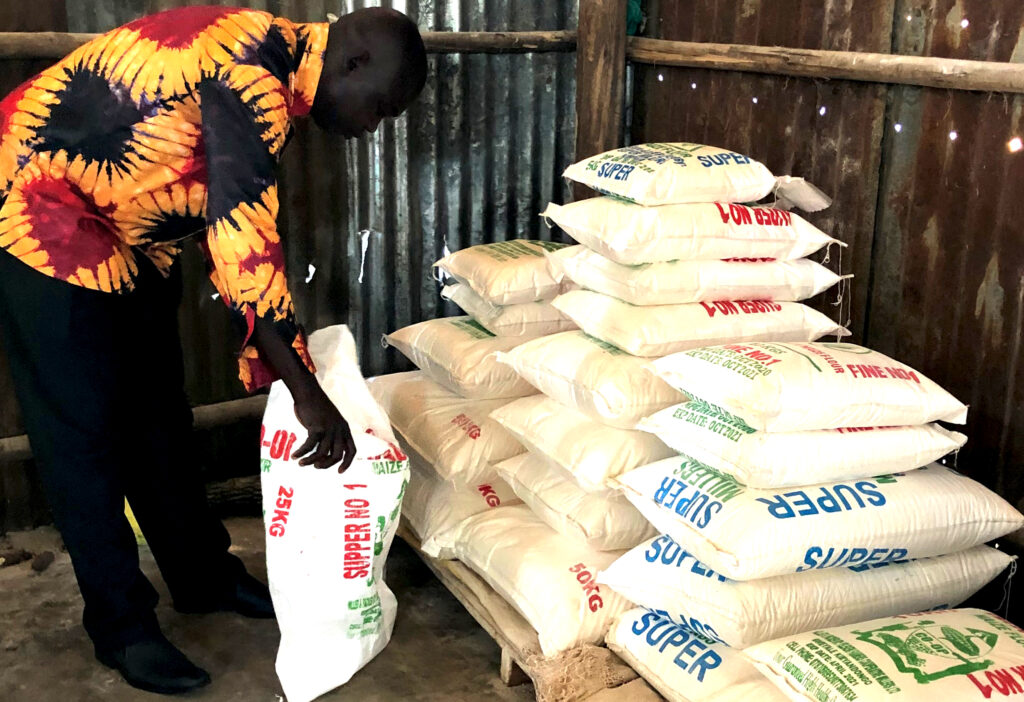 Joseph Okony is one of an estimated 1.8 million people who fled their homes in northern Uganda during nearly three decades of terror wrought by the Lord's Resistance Army rebel group. The LRA killed an estimated 100 000 people in northern Uganda and abducted around 20 000 children to become child soldiers. Joseph and his family escaped to Kiryandongo, in mid-western Uganda, in 2002.
"We came because of insecurity", he says. "It was so bad, and they were killing a lot of people there; they were abducting even the children to go to the bush, so that is why we fled from that side."
Now he has managed to build a life in Kiryandongo and raise his nine children there. They have peace and security, he says, but life still isn't easy. Joseph and his wife have bought a small plot of land, which they farm together, growing maize and soybeans and raising pigs and chickens. Along with internally displaced Ugandans, the refugee settlement is home to around 67 000 refugees fleeing violence and persecution in neighbouring South Sudan, DRC, Kenya and Burundi. Most of them farm the land allocated to them under Uganda's refugee settlement policy. Like Joseph, they mainly grow maize and soybeans, along with some sorghum and sunflowers. But it's a precarious way to live, with yields and prices rising and falling depending on weather cycles, leaving some dependent on ever-smaller allocations of food aid.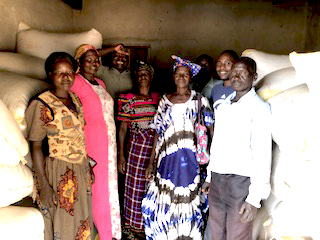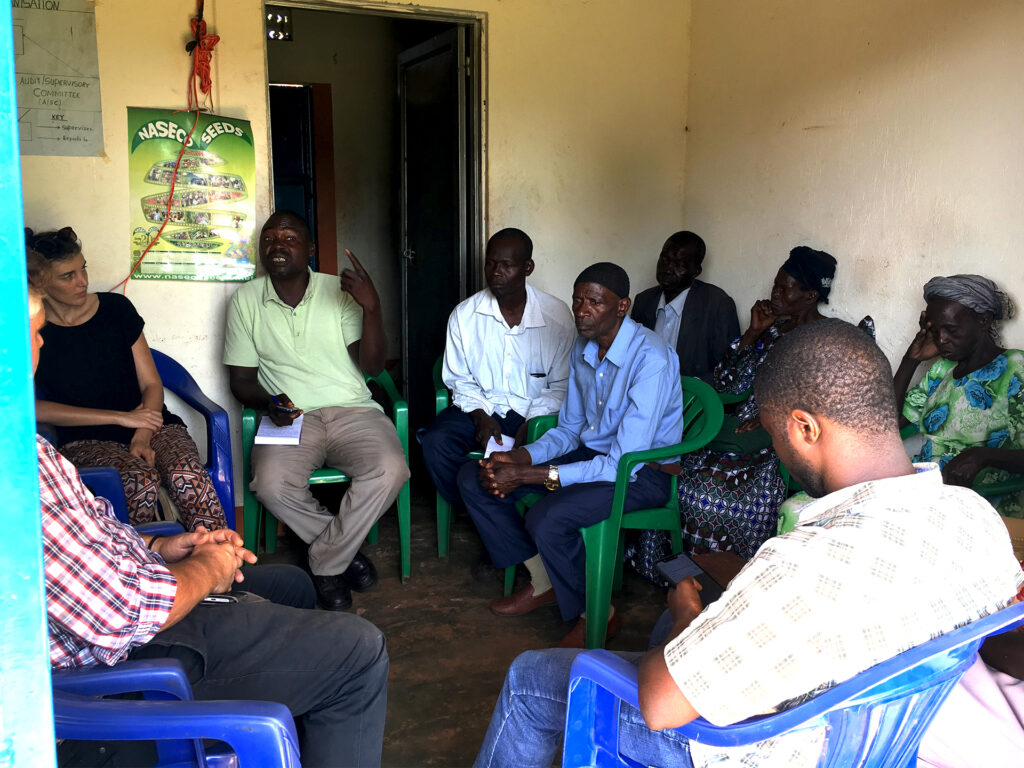 Together with other internally displaced populations (IDPs), refugees and host communities, Joseph started the Yelekeni farmer's co-operative in 2015. Yelekeni now has 513 members from both the Ugandan and refugee communities, working together to improve the lives of farmers in the settlement. But the COVID-19 pandemic made life even harder, with the World Food Programme cutting aid rations to its refugee programmes in Uganda by 30 per cent due to lack of funding, compounding problems caused by restrictions on movement and economic activity. The 2021 Global Report on Food Crises highlights the percentage of refugees households that ran out of food because of a lack of money or other resources increased from 62 per cent in 2018 to 84 per cent in October/November 2020.
Eight months before the pandemic hit Uganda, PHB had held a partner workshop in Kiryandongo to find ways to develop financial self-reliance and integration between the refugees and the host community. This was part of the Refugees Innovation Self-reliance and Empowerment (RISE) project, funded by Opportunity International UK and delivered by PHB, Opportunity Bank Uganda and FINCA Uganda. Rather than arriving with readymade solutions, the key was to listen to stakeholders.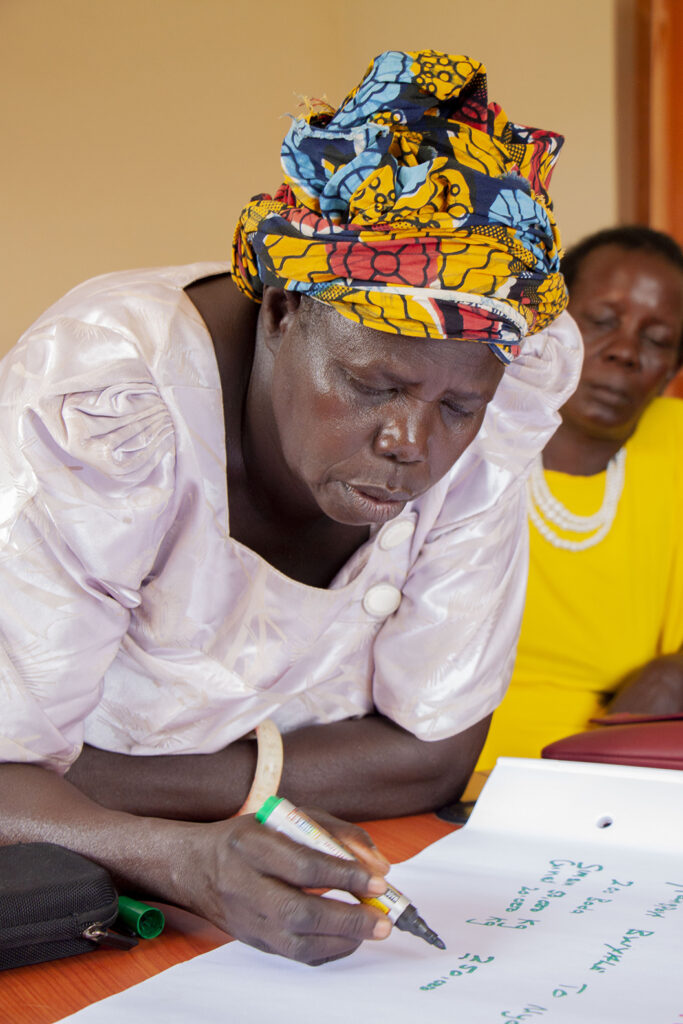 "We didn't want to assume what the challenges of the refugees were", says Grace Akinyi, Digital Catalyser for PHB. "We involved the people because they are the ones who know what their challenges are and what the solutions are. These are people who come from diverse backgrounds, so getting the solutions from them was really important."
The consultation revealed several barriers to sustainable income faced by the farmers in Yelekeni: weather conditions, storage of produce, and capital to lend to their members. During a challenge and solution mapping exercise, the farmers outlined their own solutions, involving adding value to their yields and creating jobs.
Once the problems had been identified, Yelekeni members took the initiative and began finding answers. They secured a maize milling machine from the Ministry of Agriculture, dry storage from the World Food Programme, and transport for their produce from Save the Children. The project RISE stepped in to help provide funding for installing electricity to the milling machine, which would allow farmers to increase their income and create jobs. The machine now employs eight people directly and provides benefits for Ugandans and refugees, contributing towards integration for refugees and the host community.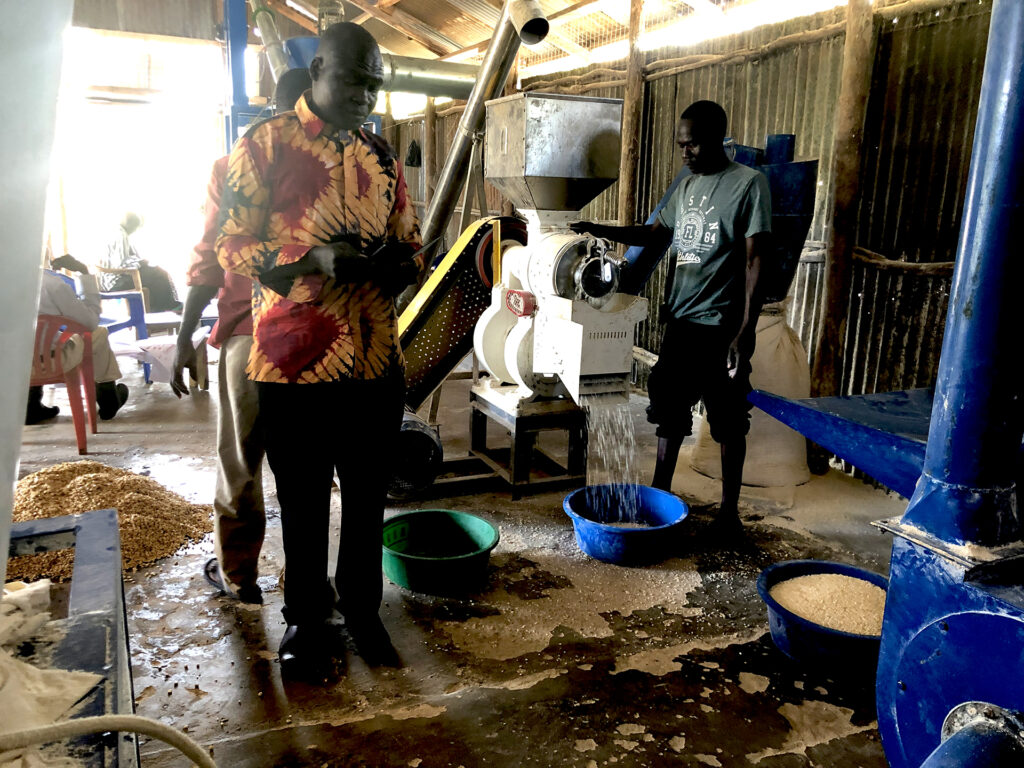 As in many refugee settlements, women make up the majority in Kiyandongo and play an important role in Yelekeni. Nancy Auma is a farmer, and now she also has a regular income working as a cashier at the milling machine. She uses the money to raise her own three children, along with three nieces and nephews. "It's better than when I was farming at home," she says of her job at the mill.
"Farming is a seasonal thing, so when it is not yet the season, you will not get something unless you sell. But right now, I'm better off than before."
"We have a lot of change," says Joseph Okony, the manager at Yelekeni.
"We can sell maize flour. We have even the maize brand to feed our poultry and animals. Our income is now increasing. It is not like before; we have value addition".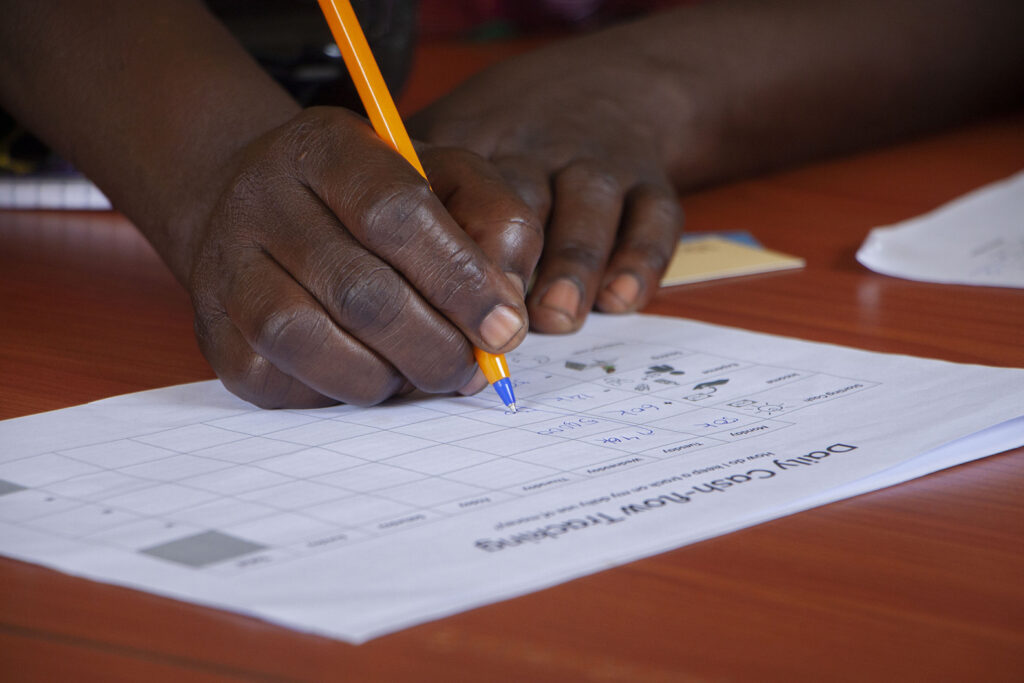 But for a vulnerable population, sustainable income generation would also mean changing behaviours around saving and spending. PHB provided a curriculum for financial literacy training, which was funded by Opportunity International and provided by FINCA. Those who received training have gone on to train others in the community.
"We carried out a ToT workshop in a social business model generation, so they would be able to go back to their groups and replicate the training," says PHB's Grace Akinyi.
"They are able to define their value proposition, who their customers are, what they are selling, what kind of revenue model they are looking at, and what the cost implications are so that they can run the social business on their own. I'm glad that they were able to do this with their members and generated models that are guiding them in the evolution of their social businesses."
Joseph says this workshop was key to improving livelihoods for members. "Before, in our co-operative, most of the people didn't know how to generate money, and then how to use it. But now they know how to generate and how to spend it," he says.
"I think with this support from PHB, our business will be more sustainable."
Along with sustainable income, the milling machine means that the co-operative can now provide loans to its members and access to finance, which was unavailable to them before. PHB linked Yelekeni with FINCA to secure a loan of ten million Ugandan shillings to invest in the business and expand their activities.
For those who have fled violence and insecurity, finally being able to invest in a sustainable future has changed their outlook.
"I think what PHB has already done, and what they continue doing with us, it will improve our lives in Kiryandongo", says Joseph. "We displaced people from northern Uganda, and the other people who are resident of the district here, it will change our lives".