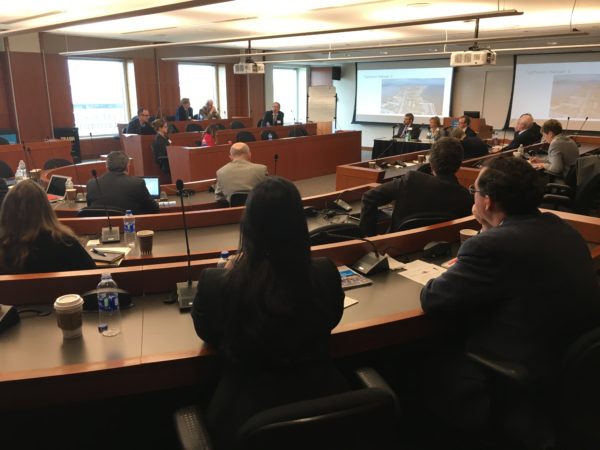 Increasing peace and prosperity amid climate impacts
With rising temperatures and declining water resources in more regions, a special meeting of The Hague Roundtable on Climate & Security at George Washington University focused on "Climate Risks and Resilience – Highlighting Initiatives to Face Common Challenges." The 24 April event in Washington D.C. featured representatives from governments, NGOs, universities, and the private sector sharing strategies on how to improve livelihoods and reduce potential conflicts when trying to cope with climate impacts, especially in developing countries.
Matt Luna, the Roundtable creator and organizer, is also a communication consultant for PHB Development: "I'm seeking to increase international cooperation on climate challenges through this roundtable forum − to raise awareness of efforts and share strategies on adaptation. The situation is quite diverse in impacts and stakeholders, as climate-change often negatively affects such a broad spectrum of developments." PHB and project partner organization SNV development organization were represented at the Roundtable in Washington.
Download the report from The Hague Roundtable in Washington
As PHB development expands its involvement in agriculture, it is increasingly confronted with the impacts of climate change. For example, a drought occurred in northern Uganda as PHB was helping in 2016-2017 to digitize payments in five different agricultural value chains. And as a hands-on organisation, PHB is providing technical assistance to two projects to help in climate adaptation: the STAMP project in Mali and its sister project, MODHEM, in Burkina Faso. These projects are financed by the Netherlands Space Office and implemented by SNV.
STAMP and MODHEM both aim to supply pastoralists with satellite data on the availability of water and biomass on the pastoralists' migration routes. This can increase their income by reducing cattle mortality. Additionally, communication can take place if there is known to be sufficient water and biomass on migration routes. This satellite-based connectivity can help reduce conflict between migrating pastoralists and settled farmers, as cattle herds will be much less likely to destroy crops and burden increasingly scarce water resources.
Mobile phones are the interface with the pastoralists and the distribution channel of the information. Here, PHB can contribute with its core expertise, by supporting the business models of the mobile technology and helping to identify and solve operational problems. Ultimately, livelihoods of pastoralists and farmers are benefited through smart resource direction and avoiding conflict.
Contact us at info@phbdevelopment.com for more information on these and other international cooperation efforts. And keep a check on the PHB website for a special feature on not only how the STAMP program can help increase security, stability and prosperity in challenging areas such as Mali, but also how the project itself is threatened by instability in the country.
Co-hosted by the GW Elliott School and the Embassy of the Netherlands to the United States, this was the first international meeting of The Hague Roundtable. The forum aims to increase international cooperation on climate impacts including water scarcity, natural disaster/flood events, migration, and instability.